Welcome to the new Maine South Alumni resource center.
******************
Please donate - I receive no funds from the school district...
Your donations to keep this web site going
would be greatly appreciated.
Paypal signup is FREE.
************************

Please send us your reunion plans so that we may post them here.
We can also assist your reunion planning by providing class lists to reunion organizers.
If you have a website or Facebook page for the reunion, send those also.
**********************
Maine South Class of 1973 45th Reunion 

Peace, Love & Groovy  4 days of Peace & Love, Flower Power, Psychedelic Rock, Blues & Happy Medicinal Madness Sept 13, 14, 15, & 16th, 2018.
4 day schedule of "right on" events by our "Groovy" Reunion Committee of Deborah Manika, Sheila Ginn Mayol , Bill Harnden & Cheryl Larsen Williams who cordially invite you to boogie on over & join the fun celebrating our 45th Anniversary year.
Update your info here on our Alumni page and go to Facebook All day long love gatherings, so rest up, "do me a solid" to pass the word & come 4 fun. Friends from other MS classes are welcome to register & join us. Can u dig it!
As of February 14th go to Reunion page to securely pay via Paypal.
Pull out your bell bottoms, flower tiered skirts, hippie beads, batik tie dye, nehru jackets & sandals & prepare for the best Reunion event yet! As of this posting, 240 days away! Peace & Love!
Deborah Manika President, Maine South Class of 1973 45th Groovy Reunion
Committee:
Facebook: Maine South Class of '73 45th Reunion
************************

Class of '68 Reunion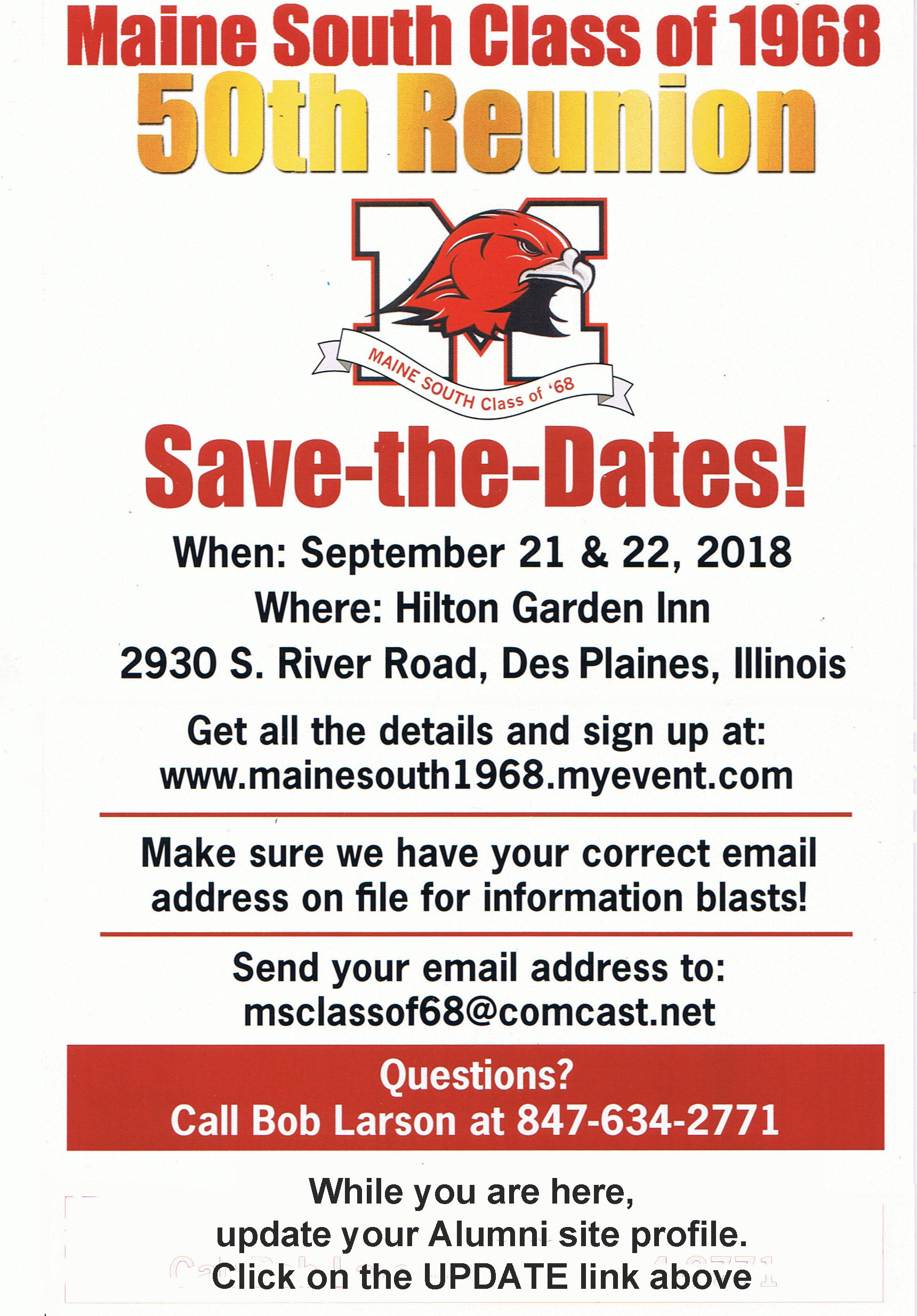 ************************

Maine South Class of 1978
40th Reunion. Saturday, September 29th, 7-11pm
at the Edison Park Inn, 2nd floor Private Room, 6715 N. Olmsted, Chicago.
$10/person donation, pizza will be served, Cash Bar, and a DJ.
Meghan Roer Barber can be contacted either through FB, or via email, meghan@grandfoodcenter.com
**********************
Maine South Class of 1993
25th Reunion. Saturday, September 29th,
More data coming

Go to Reunion page for details

The Following Alumni have updated within the past 20 days

ADAMCZYK, Dr. Julie A,'2003 ADAMCZYK, Teddy S,'2007 BEAN, Alan J,'75 BEAN, Cheryl L,'72 BEAN, Deborah A,'70 BEAN, Robert T,'79 DIGIROLAMO, Dr. Lucinda,'80 EDLUND, Jennifer L,'92 FARRELL, Craig D,'78 FARRELL, Kimberlee O,'71 FARRELL, Scott C,'74 KEERAN, Nancy E,'78 KING, Laura,'73 LENKE, Ellen,'77 LENKE, Richard E,'73 LINZING, Daniel M,'83 LINZING, Susan J,'77 MANIKA, Deborah,'73 SMITH, Daniel B,'71 SMITH, Donna J,'83 SMITH, Ellen R,'77 SMITH, Martin P,'72 SMITH, Roberta A,'73 STINSON, Barbara E,'75 STINSON, James R,'69 STINSON, Richard J,'72 VIGIL, Julia M,'77 VIGIL, Marian N,'75